FREE "Maggee Baggee" - Try Valkyrie Precision Elite BBs For Yourself FREE & Dare to Compare 🙂
A one-time price of
£0.00
will be added to your order.
Maximum purchase amount of 2 is allowed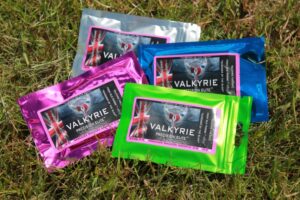 DARE to COMPARE 🙂

You don't have to believe what anyone says about our BBs as we are so confident that you will love them we are happy to give you a free "Maggee Baggee" containing enough to fill at least one magazine with the Valkyrie Precision Elite BB of your choice.
All we ask is you cover the post and packing cost of £1.
We've tested them out in many different guns with different permutations of mag, barrel, hop up, bucking, etc but at the end of the day we know that everyones gun is different and it is only fair we give you the ability to make up your own mind without any hype. 🙂
Order yourself a FREE "Maggee Baggee" or two and simply test a mag of Valkyrie BBs against whatever BB you currently shoot and see for yourself how consistent they are in comparison...
Consistently hitting the same place more often is the simple "secret" of Valkyrie Precision Elite BBs... Enjoy!